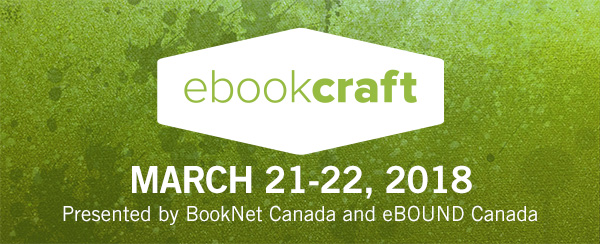 BookNet Canada is currently accepting proposals for ebookcraft 2018! ebookcraft is a two-day conference for the ebook production community, featuring in-depth demonstrations and insightful talks from the industry's leading experts. It features lively discussions of design, standards, and best practices with a mix of practical tips and forward-thinking inspiration. The conference is organized by a steering committee of industry experts and is co-presented by BookNet Canada and eBOUND Canada.
ebookcraft 2018 will take place in Toronto across two days in March 2018: a workshop day on Wednesday, March 21 and the main conference day on Thursday, March 22.
Proposals will be considered for workshops, presentations, and panel discussions. A typical time slot is 45-60 minutes for presentations and panels; workshops vary.
Find out more:  https://www.booknetcanada.ca/blog/2017/8/22/ebookcraft-2018-call-for-proposals